1. It's drawing time.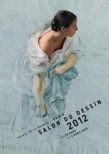 Following the majestic, world-leading art and antiques TEFAF Fair in Maastricht (from 16 to 25 March, www.tefaf.com, admission from 55 euros), the Salon du Dessin, equally interesting for drawing enthusiasts, will open its doors in Paris (from 28 March to 2 April, www.salondudessin.com, admission  €15.-). The organization offers an attractive program of private visits and free entry to the collaborating institutions, with no extra charge but under tight advanced booking conditions (see the details here). For those away from the city, there is an exhibition in Munich of Roman Baroque drawings (Zeichner in Rom 1550-1700, Pinakothek der Moderne, until 13 May, admission €10.-, and catalogue for €36.-); another about to be open in Los Angeles, featuring Dürer's, Holbein's and other German works from the Getty collection (Renaissance Drawings from Germany and Switzerland, 1470-1600, from 27 March to 17 June, free admission), and, dealing with Northern prints, a show in the Wallraf-Richartz-Museum in Cologne (Artists of the Line. Henrich Goltzius and the Graphic Arts c. 1600. The Christoph Müller Collection in Cologne, from 16 March to 10 June, admission €8.50). For the personal library, you can go now for the complete catalogue of Italian drawings in the Fitzwilliam collection, which also includes the Spanish ones (David Scrase, Italian Drawings at the Fitzwilliam Museum, Cambridge, Cambridge University Press, Cambridge, 2012; 878 pages and 1390 colour illus., for GBP 180 at the publisher's website); while waiting for the catalogue raisonné of Hieronymous Bosch and workshop, by Fritz Koreny and assistants, is about to appear (Fritz Koreny, Hieronymous Bosch. Die Zeichnungen. Werkstatt und Nachfolge bis zum Ende des 16. Jahrhunderts, Brepols, Turnhout, 2012; 456 pages, 419 col. ill., order for €100  from the publisher's website).
2. Heart-pounding at auction, part II.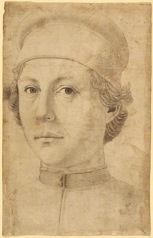 Just following a topic raised in last week's post, you will find in Getty's Iris blog a candid report by Julian Brooks, Associate Curator of Drawings at the J. Paul Getty Museum in Los Angeles, about how electrifying it was entering the bidding war for the Portrait of a Young Man, Head  and Shoulders. The pen pen and brown ink over black chalk work (36.2 x 22.9 cm) was attributed to Piero del Pollaiuolo (1443-1496) and put up for auction as lot 27 in Sotheby's New York Old Master Drawings Sale on 25 January 2012, with an estimate of USD 300,000 – 400,000. He also discusses the anxiety surrounding the attribution, and the extensive homework that had to be done beforehand in this respect. The Getty eventually won the elegant drawing, for a handsome USD 1,398,500. Julian Brooks is the author of the enjoyable Master Drawings Close-Up (108 pages, Getty Museum, Los Angeles, 2010; USD 21.83 at Amazon), and the editor and main contributor to Taddeo and Federico Zuccaro (144 pages, Getty Museum, Los Angeles, 2007; USD 50.00 at Getty's online shop), and to Guercino: Mind to Paper (112 pages, Oxford University Press USA, New York, 2006; USD 53.00 at Amazon), both companions of the corresponding exhibitions in the Getty Museum and the Courtauld Institute of Art, London.
3. Books: New biography for Michelangelo and new reprint for Leonardo's.

The long anticipated first volume of Michelangelo Buonarroti (1475-1564), by the great specialist and Courtauld Institute Emeritus Professor Michael Hirst, is already available (Michelangelo vol. 1. The Achievement of Fame 1475-1534, Yale University Press, New Haven, 2012, 416 pages and 70 b/w ill.; for GBP 30.00 at the publisher's website). Its first reviewers agree in praising the book for its wealth of new documentary information, but are less enthusiastic about its rigorous, perhaps too dry, approach to the terrible genius (see for all of them James Hall's review at the Wall Street Journal website). This is not the case of the laudatory review by Noah Charney in the BlouinArtinfo blog, which celebrates the revised (with additions) edition of Martin Kemp's 2004 Leonardo (Oxford University Press, Oxford, 2011, 312 pages, 20 colour plates plus 23 b/w ill.; for GBP 10.99 at the publisher's website). As noted in this blog some months ago, Dr. Kemp is also an Emeritus Professor of Art history at Oxford University, and he is backing the attribution to Leonardo of the two most recent works in discussion; the Salvator Mundi and La Bella Principessa, which was the subject of his most recent book (Martin Kemp and Pascal Cotte, La Bella Principessa – The Story of the New Masterpiece by Leonardo da Vinci, Hodder & Stoughton, London, 2011; 208 pages, for GBP 8.99 at the publisher's website).
4. Hitting Leonardo through a hole.
Maurizio Seracini's nearly 40-year-long quest for Leonardo's The Battle of Anghiari fresco behind Vasari's The Battle of Marciano, on the east wall of the Salone dei Cinquecento in the Palazzo Vecchio, Florence, seems to be finally yielding some promising hints. According to the press note issued on 12 March by National Geographic, which is funding the research with a USD 250,000 grant in exchange for broadcasting exclusivity, Seracini's was that the remnants of Leonardo's masterpiece (hailed by contemporaries, even though it went unfinished because of technical problems and a pressing call for work in Rome), were protected by Vasari by shielding them with a brick wall.  The theory has begun to find support after this week's discovery, behind the wall, of a black material  whose chemical composition matches the composition of the brown patina in Leonardo's Gioconda (oil on panel, 73 x 53 cm, Louvre) and Saint John the Baptist (oil on panel, 69 x 57 cm, Louvre). Further evidence includes, among other things, the remains of a beige layer that could have been applied with a brush. All of them have been found using an endoscope, which required  drilling of into Vasari's work – which sparked protests among some Italian specialists. Mr Seracini replied to his critics, as shown in this interview in the Spanish newspaper ABC, by stressing that he and his team made only 6 holes, in areas where breaks were already present or where there was no painting at all, and always under the supervision of the Opificio delle Pietre Dure, Firenze's world-renowned conservation institute. However, it seems that the project had to eventually abandon a non-invasive technique that had been discussed in earlier stages of the process. As explained in this article from last August in the New York Times and in this note on the website of Argonne, a U.S. national laboratory, the technique was designed by in-house researcher Dr. Robert Smither, and consisted of shooting beams of neutrons at Vasari's fresco, hoping that some of them would cross the brick wall behind it and react with the metals in Leonardo's painted layer, therefore emitting some gamma radiation back, which would then be collected by an innovative camera using copper crystals instead of the usual glass lens. But this was an expensive toy to build, and a fundraising campaign looking for the USD 266,500 needed fell very short at USD 25,391. The campaign was launched through Kickstarter.com, a very attractive platform for online fundraising.  On the other hand, National Geographic Channel will run a special feature on the matter on 18 March, 2012 at 9 PM EST –using a less dramatic approach than this promo video, hopefully.
5. Childhood in late 19th-Century Europe.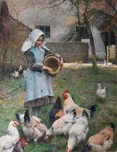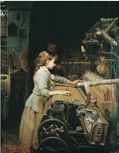 It is thanks to an email from a keen supporter of this blog, writer Georgina Tremayne, that I came across the first of these two oils, Walter Frederick Osborne's  (1859-1903) Feeding the chickens (oil on canvas, measurements not given, c. 1884-1885), which the London auction house Bonham's announced will sell in its next 19th Century Paintings sale on Wednesday 11 July 2012, with an estimate of GBP 500,000 – 700,000. The contrasting parallel of this Irish impression with one of the most famous Catalan paintings from the same years instantly came to mind: Joan Planella's (1850-1910) contemporary The young weaver (oil on canvas, 182 x 142 cm, 1882) shows a harder side of child life, set in late 19th Century fast-industrialising Catalonia – although it seems that the artist's intention was not to put forward an iconic image of working-class exploitation, but just to reflect an everyday, matter-of-fact reality. The coincidences stop here. Osborne shows a more advanced and better-handled technique, and his background career was more consistent -in Planella's case, this oil was a kind of single shot, the rest of his oeuvre being of lesser interest. Planella's work would therefore perform more discreetly at auction, but we will probably never know. The current owners of the Planella's, who routinely agree to every serious loan request, never express an intention to sell it – in fact, it has never been sold, as far as I know. But things can change: as this article in the irishtimes.com notes (following Bonham's press note), it will be the first time since 1913 that Osborne's work will be publicly offered.
6. An uncommon object following too familiar a path.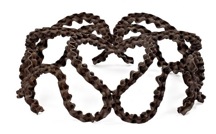 One of the strangest art works to recently come to auction in Barcelona is this iron cover (112 cm diam. x 50 cm high), designed by Antoni Gaudí  (1852-1926) for a well in the Sagrada Familia basilica in Barcelona. It was salvaged in the early days of the Spanish Civil War (1936-1939) by a local ironmaster, according to this article in El País newspaper (J.A. Montañés Bermúdez, "Cultura prohíbe la salida de España del forjado de Guadí de la Sagrada Familia", 3 March 2012). Certified by specialist Dr. Joan Bassegoda Nonell, it was the star lot of the 1 March sale in Balclis, a local auction house, with a starting price of €120,000. As the article explained, the piece attracted the interest of many bidders, most of them from Japan. But in the end, not a single bid came, leaving the lot unsold, in the most humiliating way. The reason? The auction house announced, a few days before the sale, that the Junta de Calificación, Valoración y Exportación, the public body granting export licences for artworks, would not issue one in this case. This needs some clarification: the Junta may simply deny a license, without having to buy nor to release a recommendation for buying the object. The seller therefore finds himself cut off from many potential international buyers, and left in the hands of the national ones who are ready to speculate on his weak position,  the bottom price having revealed. In this the auction house in only slightly to blame, as to apply for an export license the Spanish Law requires a "serious intention to sell" – which many interpret as the need to see the sale listed in the catalogue. However, I can only see this outcome resulting in incentives for secretive dealings and foggy smuggling. Of course Spain has a long story of illegal cross-boundary trade, by both foreign and national individuals. It is also clear that it lacks the funds and the museums and collector base needed to follow the British way, under which a license is not denied but deferred until a national matching bid comes forward – but granted anyway, if such a white knight does not show up. But between this wonderful scheme, and the aggressive, last–minute public intervention witnessed here, there must be a middle ground. Maybe it can come from a combination with another piece of legislation. Under current Spanish tax regulations, the taxpayer can claim a 25% or 35 % deduction (depending on whether the benefactor is an individual or a company) of the value of an artwork he donates, provided it is included in the public catalogue of National Heritage Objects of Art, and provided that the receiver is a public institution. So the frustrated seller in the auction could find some relief if, after denying him the licence, the Junta offered to include the art work in the list, subsequently launching a campaign that searched for individuals or companies interested in the tax deal.
7. Barcelona collects, and Fundación Godia delivers some basic lessons.

Breaking one fundamental rule of this blog – only old masters, this note deals with "Barcelona collects", an exhibition that champions the growth of local collecting of contemporary works, until 26 March at the Fundación Francisco Godia (c. Diputació 250, Barcelona, t. 932723180, www.fundacionfgodia.org; admissions €6.50, catalogue for €11). But there is a good reason for this. These mid-sized exhibitions, hidden away from the international hotspots and displaying a carefully curated, somehow established contemporary art (instead of the furiously cutting-edge), offer an excellent introduction for those among us who are new to the field. On this occasion, the useful lesson was delivered by works such as Christian Boltanski (Paris, 1944) "Reliquaire", and Jannis Kounellis (Piraeus, 1936) "Untitled", 2002, which, according to the text written by critic Julià Guillamon (Barcelona, 1962), should be read as "left-overs of history, vestiges of the rout of European culture, monuments without grandeur that speak of death and pain". I guess this is nothing less that the bottom line of the matter, and in fact, most of the rest of the works in the exhibition could be seen as fragmentary approaches to the different issues involved: women, war and pain, loneliness, space, eroticism, architecture, minimalism (the choice of subjects might seem obvious for insiders, but worked nicely for a beginner). There was a telling contrast with the medieval altarpieces and sculptures from the permanent collection, mixed in the same rooms, and their substantial web of common references.
(Disclosure: I do maintain a professional relationship with Fundación Francisco Godia)
Miss anything? Send me your good ideas either as a comment below or by email to jordi@jordidenadal.com.