1. Els clàssics, aquesta font inesgotable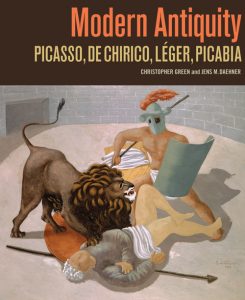 Comencem aquest post, que dedicarem quasi exclusivament a exposicions, amb un tema ben conegut: la relació entre artistes antics i moderns ha estat objecte de nombroses exposicions i publicacions. Ara una exposició a la Getty Villa, a Malibú, Califòrnia, reprèn el tema, si bé portant-lo més enrere: "Modern Antiquity, Picasso, de Chirico, Léger, Picabia in the Presence of the Antique" (des del 2 de novembre de 2011 al 16 de gener de 2012) examina les "creacions classicitzants" presents en l'obra d'aquests quatre mestres, a la llum dels seus models de l'Antiguitat, per mitjà de la comparació directa amb alguns exemples de la col·lecció de la pròpia Villa. Comissariada per Christopher Green, un dels grans especialistes en l'art modern d'arrel parisenca i Jens M. Daehner, Associate Curator of Antiquites a la  Getty, segurament serà una d'aquelles exposicions que marcaran època. Es pot comprar el catàleg per 45 $ a The Getty Museum Store (Christopher Green i Jens M. Daehner: "Modern Antiquity, Picasso, de Chirico, Léger, Picabia", 176 pàgs., 82 il., Getty Publications, 2011).
2. De mestre a mestre.
En la mateixa línia, però a l'altra costa dels Estats Units, la Frick Collection va obrir el passat 4 d'octubre una exposició sobre el dibuix com a mitjà amb el qual Picasso va comparar-se, imitar, superar i renovar la tradició dels mestres europeus, tan propers com llunyans ("Picasso's Drawings 1890-1921. Reinventing Tradition", del 4 d'octubre de 2011 al 8 de gener de 2012). L'exposició, prou atractiva, viatjarà a la National Gallery de Washington al febrer, però de moment no hi ha programada cap estada a Europa. Malgrat tot, els internautes poden gaudir de totes i  cadascuna de les obres exposades, ja que s'han inclòs juntament amb un petit comentari a la  web de la Frick. El catàleg es torba a la botiga online: Susan Grace Galassi i Marilyn McCully: "Picasso's Drawings 1890-1921. Reinventing Tradition", The Frick Collection, New York and the National Gallery of Art, Washington, D.C. in association with Yale University Press, New Haven and London, 299 pàgines, 200 il. color.,  60 $ (tapa dura) , 45 $ (tapa normal).
3. Nous projectes i nou estatut?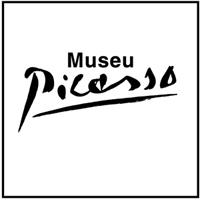 La  presentació del programa del Museu Picasso per l'any vinent va ser interessant en dos aspectes. Primerament, el director, Josep Serra, va anunciar, entre altres, una exposició sobre un tema molt específic i suggestiu: els experiments de Picasso amb les tècniques del collage al 1899, bastant abans de la seves grans sèries de 1912 amb el mateix mitjà ("El Collage abans del Collage. Picasso 1899", del 6 de març al 3 de juny de 2012). El seu comissari és Fèlix Fanés, catedràtic de la UAB, que ja ha tractat el mateix tema respecte Dalí ("Dalí i la Cultura de Masses", Barcelona, 2004) i Miró ("Pintura, collage, cultura de masses: Joan Miró 1919-1934", Madrid 2007). En segon lloc, la convocatòria també va donar a entendre que hi haurien canvis en l'estatut jurídic del Museu. No és molt conegut que el Museu no té personalitat jurídica i que de fet, és un departament més de l'Institut de Cultura de l'Ajuntament. Aquesta situació porta a que els seus gestors no puguin contractar (ni firmar xecs) al seu nom i, encara més greu, tampoc poden gestionar un pressupost propi – així, els beneficis que aconsegueix any rera any s'entreguen a l'Institut i aquest els redistribueix entre altres institucions. El director no ha perdut mai cap oportunitat per  reivindicar una personalitat jurídica pròpia i ara sembla que està més a prop d'aconseguir-ho. Durant la presentació, Jaume Ciurana, Regidor de Cultura, va prometre "potenciar l'autonomia de la gestió" i dotar al Museu "de tots els instruments necessaris per créixer".
4. El discret encant d'una col.lecció personal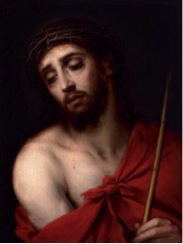 El proper 7 de novembre una exposició, petita i atractiva, tancarà les seves portes a Segòvia: "Semblantes. Colección Granados" mostra uns cinquanta quadres i escultures de la col·lecció de Manuel Granados. Començada al 1966 (segons la nota de premsa) i especelitzada en el Barroc espanyol, ha anat creixent durant els darrers 50 anys – fins fa poc, algunes de les seves obres estaven disponibles al mercat madrileny. La selecció és exquisida i alguns dels grans noms es presenten amb obres de gran qualitat – com ara el Murillo de la fotografia. S'ha publicat un catàleg, escrit pels comissaris Gloria Martínez Leiva i Ángel Rodríguez Rebollo ("Semblantes. Colección Granados", Segovia, 2011, 174 pàgs., 25 €) però no és fàcil de trobar: ho podeu intentar seguint les instruccions a la  web de Caja Segovia, mecenes de l'exposició.
5. Busqueu casa a París?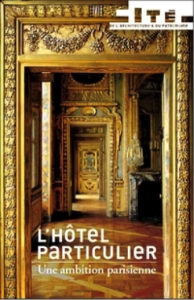 Una exposició sobre l' "hôtel particulier", aquest tipus de casa propi de París, està oberta a la Cité de l'Architecture et du Patrimonie, al Palais Chaillot  de la Place du Trocadéro ("L'Hôtel Particulier. Une Ambition Parisienne", fins al 19 de febrer). Presenta la seva evolució des dels seus orígens medievals fins a la seva desaparició als anys 20 del segle passat. A més més, és un exemple de com exposar arquitectura, tal i com mostra aquest excel.ent video, que hem trobat a la web de Connaissance des Arts. El recorregut de l'exposició s'ha dividit en tres àrees: la primera és una recreació sincrètica de diferents habitacions de diversos hôtels, amb totes les decoracions pertinents; la segona àrea es dedica a maquetes a gran escala, algunes d'edificis desapareguts; la tercera àrea es dedica a la documentació sobre diferents temes. A aquests tres, s'hi pot afegir un quart: la ciutat mateixa, per a la qual es proposen diversos parcours. En aquest sentit, el llibre d'Alexander Gay, "Les hôtels particuliers de Paris. Du Moyen Age à la Belle Epoque", que s'ha reeditat per a l'ocasió, pot ser usat com una guia per París – o com una llista de possibles cases a considerar (Alexander Gady, "Les hotels particuliers de Paris. Du Moyen Age à la Belle Epoque", 320 pàgs., 850 ill., 49 €  a la web de l'exposició).
6. Two Temple Place
Hi ha un equivalent londinenc per  a l'hôtel particulier? Nosaltres no l'hem sabut trobar i el terme "townhouse" ens sembla massa ampli. Per a habitatges singulars, en el cas de Londres, més aviat donaríem adreces concretes. A la llista, ara hi hem d'afegir Two Temple Place, London WC2R 38 D. D'acord amb aquesta crítica al Guardian, per Rowan Moore, es tracta d'un d'aquells experiments del dinou anglès amb l'ecleticisme i l'historicisme: "a late Victorian building in the style of a miniaturised Tudor mansion", escriu. La casa ha obert les seves portes amb una exposició escaient: "William Morris. Story, Memory, Myth" (del 28 d'octubre de 2011 al 20 de gener de 2012).
7. Una petita joia literària a partir d'un quadre misteriós
Admirem la política de personal de l' Art Insitute of Chicago, ja que han estat capaços de contractar, com a  Assistant Director of Communications, una persona que sota el nom de "Paul J." demostra un gran talent literari. Per acompanyar aquests vespres plujosos d'octubre, feu una llegida al seu post al blog de l'AIC: "A Discussion of Divine Transportation in Gallery 170", relacionat amb "The Home of the Heron", 1893, un quadre fantasmagòric de l'americà George Iness (1825-1894).