1. Blurring boundaries.

As a firm believer in the superiority of Old Masters I was not particularly excited when I saw, in this years' TEFAF fair in Maastricht (the Holy Week for us the Old Masters' worshippers), a BMW M3 GT2 painted over by Jeff Koons' assistants in a spectacular but dull way. Anyway it seems that the trend has caught fire, even in the reverse sense. I have just come across the announcement by Frieze's organizers that next year there will be an addition to the mighty all-contemporary art fair in Regent's Park, London: "Frieze Masters", devoted to "work made before the year 2000", and blessed by none else than Nicholas Penny, the Director of the National Gallery.  So, new people joining the old party? Too good to be true!
P.S. November 11th, 2011: An even Mr. Koons itself is an Old Masters collector!  He showed some of his treasures in the recently closed Paris Tableau Fair. Read the official press note about it, and also Hubert Duchemin's unconvinced post in his blog.
2. The Wandering Collector and the Global Peddler.
This new show slips into some of the few free weeks of an already crowed start to the Old Master's fair season: first a Biennale, one year in Florence (Biennale Internazionale dell'Antiquariato, 1-9 October, 2011), the other in Paris (Biennale des Antiquaires, scheduled next 2012 from 14 to 23 September); then the annual fair in Munich (Highlights Fair, 21 – 30 October, 2011) coinciding with the one in New York (The International Art Fair & Antiques Dealers Show, 21-27 October, 2011); then follows the new fair in Paris (Paris Tableau, 4-8 November, 2011);  and it all ends in Madrid (Feriarte, 19-27 November, 2011) and Amsterdam (PAN Fair, 20-27 November, 2011). I will keep researching further on the calendar -perhaps I will discover it is an all year non-stop round. In the meantime, just decide how you would like to ride the race: either from plane to plane, playing the modern Grand Tourist, or with a big truck, making of all that an exhausting but glorious car boot sale.
3. One better than two.
What in 1995 entered the National Gallery of Art, Washington, as two separate portraits of a firing Spanish galleon and a blasting Netherlands battleship, has been now united again into their original format, as a single large naval warfare painting by Harlem's specialist Cornelis Veerbeck (1590-1637). In this video from the NGA, you will find a recap of the process – a fascinating story of conservation, restoration, investigation and even framing. As a side effect, Veerbekc's national preferences have resurfaced: he not only inscribed his signature in the red-white-blue flag, but also draw the Spaniard in the difficult situation of dealing not only with one, but two enemy vessels – the second one about to arrive after finishing his job with another Armada's ship.
4. The belle enchère is more and more auction-like.
First in 2000, now last July, the regulation of French auctions are bringing them nearer to the Anglo-Saxon, i.e. worldwide standard. In the name of EU-blessed liberalization, and with the obvious aim of holding Paris' place in the international auction circuit, the Loi de Libérisation des Ventes Volontaires de Meubles aux Enchères of 20th July, 2011, introduces some features already common in the other side of the Channel: sellers' guaranties, auctions of primary market goods, sales of unsold auction lots without price-limits, and most critically, private sales conducted by auction houses. For a note on all these changes, see this article in Le Figaro (in French).
5. Opening a new door.

Porticvm. Revista d'Estudis Medievals is a new on-line journal on Medieval studies, bound "to provide a platform for young researchers in Medieval art and history". This noble goal is pursued by an editorial board made up of PhD students, most of them from the Catalan territories in Spain and France. There is also a scientific committee in place, which includes other students from a wide range of European universities. Regarding languages accepted, they adopt that Medieval, liberal approach: its first issue includes articles in Catalan, Spanish, French and Italian, with English acting as the current Latin and used for the abstracts. This time, the submissions deal with matters related to the Medieval Iberian Peninsula.
6. That magical moment.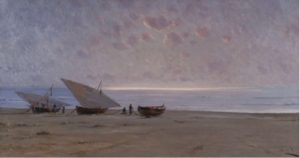 Never heard about Modest Urgell (Barcelona 1839-1919)? A Catalan painter of the Realist school, he was famous for sticking quite steadfastly to just two subjects, invariably rendered in the same large panorama's format: derelict rural dwellings (in most cases cemeteries) and beaches, preferably at sunset. He was quite productive, and his insistence in sheer repetition tended to be fastidious, even to contemporaries. But, from time to time, that magical moment happened, in which a particular example stand out for its exceptional quality. This is the case with the painting above  (Three boats at the beach, oil on canvas, 63 x 130 cm), bestowed with glorious touches of gold light. You can only guess at them from this photo, sadly enough. But the good news are you can see it in the flesh: it is one of the star works of the current exhibition in the gallery Artur Ramon Art, Barcelona  –"L'Edat d'Or de la Pintura Catalana"  ("The Golden Age of Catalan Painting") up to 7th January 2012.  You will find its label sports the red sticker (meaning "sold"): it was posted there during the first hours of the VIP preview.
7. Endless, nameless beauty.
The Metropolitan Museum is opening its new Islamic Art galleries next 2nd November (see Randy Kennedy's article in the New York Times and the Met's official press release).  They are not only about wonderful ceramics, books, panels and tiles, but also entire rooms, some of them historical, others commissioned for the occasion.  This is the case of the Paddi Cadby Birch Court, built at the Met by artisans coming from Fez, Morocco. While I was seeing the video of these craftsmen giving birth to such a prodigious web of patterns and colours, the thought came to me, that Islamic art is a continuous form of endless, nameless beauty – perhaps because its ultimate goal is to convey an immediate presence of God.