1. Only once every hundred years.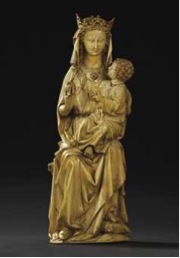 The sale of Collection Marquet de Vasselot, hold by Christie's last 16th November in Paris will be long remembered as one of the finest assembly of Medieval works ever to come to the market. Among the carefully selected list of 24 pieces, it was lot 20 which held pride of place. One of the most exquisite fruits of the Gothic Paris courtly art-technique and spirit, this "Virgin and Child enthroned" ivory group (37.8 cm, Paris circa 1250-1280) has amazed the Medieval art community since its presentation in Rouen in 1884 and then in Paris in 1900 – in the major show Exposition rétrospective de l'Art français. Kept since then in private collections (first by Victor Martin Le Roy and then by Jean-Joseph Marquet de Vasselot), the attendance at the auction room knew that it was a once-in-a-century opportunity, and its price rocketed from the shy  1,000,000 – 2,000,000 Euros pre-sale estimate to a far more understandable 6,337,000 Euros (premium included).  Have a look at the auction's catalogue, and also at Souren Melikian's article  in the International Herald Tribune ("Glamorous History Drives Divine Surprise", published on 18th November) for a behind-the-scenes report of that extraordinary event.
2. A failed shot?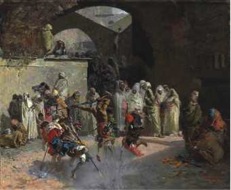 The Spanish section in Christie's recent 19th Century art auction was not a success. In fact, it showcased the severe consequences of combining too imaginative pre-sales estimates with the workings of the so-called "selection" or "disparity" effect – by which only the best examples of a certain artist do stand the test of time. Although packed with high-flying names, just 7 of the 17 works offered found a new owner, and from these, only the iconic "Santa Maria della Salute" (oil on canvas, 65.5 x 101 cm), by Martín Rico y Ortega came close to the high end of its GBP 50,000 -70,000 estimate (without premium), selling for GBP 81,650 (including premium). Even the star lot, Mariano Fortuny's "Arab Fantasia" (oil on canvas, 50.8 x 62.2 cm), previously blessed by its inclusion in the 2003-2004 landmark retrospective at the Museu Nacional d'Art de Catalunya as an outstanding example of his Orientalist period, was given away for GBP 583,250 (with premium), just a little over the low end of its pre-sale estimate of 400,000 – 600,000 (without premium). This was a marked contrast with the GBP 735,000 (with premium) paid for Fortuny's prodigious "Arab before a tapestry" (oil on canvas, 150 x 75 cm) in Sotheby's in May this year, intelligently introduced with a highly attractive pre-sale estimate of only GBP 150,000 – 250,000. Perhaps it is time to understand that this kind of paintings, long appreciated for its decorative qualities, are now purchased according to their artistic value, and in a quite discriminating way.
3. Not so black-and-white.
What also seems in need of overcoming outdated clichés is turn-of-the-century Spanish painting.  Reviewing "L'Espagne entre deux siècles, de Zuloaga a Picasso", currently on show in the Musée de l'Orangerie, Paris (up to 9th January 2012, admission for €7.5) two independent critics, Véronique Gerard Powell for Aficion.fr (posted in 10th November) and Jean-David Jumeau-Lafond for La Tribune de l'Art (posted in 23th November) pointed out the same problem: the "Black Spain / White Spain" approach the curators proposed simply does not work. As Véronique Gerard Powell puts it, the contrast between a pessimistic and an optimistic vision of Spain rather obscures some of the actual trends, such as "costumbrisme" (the painting of local folklore) and "social painting" (the representation of the new social classes: bourgeoisie, proletariat and the outcast). But writing from Barcelona, I cannot resist noting that the black-and-white topic also conceals an important territorial difference – between an insular, inward-looking central Spain and a more dynamic, Europe-oriented Catalonia.
4. Christmas in Vienna? Go for it before is too late.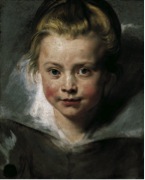 Through Artclair.com, I learn the sad news that the Liechtenstein Museum in Vienna is closing its doors in February 2012. From that time on, the family's summer palace will open only by appointment, mostly to groups or for private events. It will be the end of a kind of fairly tale, in which a real prince, Hans Adam II zu Liechtenstein, revived the financial fortunes of the family trust, and embarked on the noble pursuit of re-acquiring some of the works of art that his impoverished ancestors had given away, only to offer them to the public. But it also shows the difficulty in building a world class Old Masters collection these days, specially in the Dutch and Italian schools. Even with the spectacular purchases of the Badminton Cabinet (pietra dura, ebony, ormolu, 380 x 233 cm1730-1732, bought for GBP 19,000,000 in 2004 at Christie's London) and other important works (notably in 17th century Italian sculpture), and despite the fact that Leonardo's "Ginevra de Benci" (oil on panel, 38.1 x 37 cm) was sold in1967 to the National Gallery, Washington, the remains of the historical collection still in the family's hands proved impossible to surpass. Among them, you will find Ruben's "Decius Mus" cycle – and also his portrait of daughter Clara Serena (oil on canvas mounted in panel, 37 x 27 cm), who, you cannot deny, charmingly invites you to go to her home in the Bankgasse and give her a proper farewell.
5. An ex-royal collection in a ex-royal palace.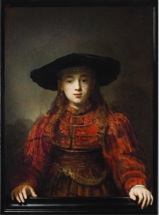 Leonardo's "Dame with an ermine"  (54 x 39 cm, oil on panel) is not the only important Polish artwork to tour Europe this year. Rembrandt's "Girl in a picture frame", sometimes called "The Jewish Bride" (105.5 x 76 cm, oil on canvas, 1641) also enjoyed a trip – to Madrid, for the exhibition "Polonia. Tesoros y colecciones artísticas", from June to September. It has now returned home, where it has been given a new setting on the ground floor of Warsaw's Royal Castle. The rooms, opened last 4th November, also display, among different works, the other 34 paintings (including a second Rembrandt, "Scholar at his writing table", and other oils by Dutch masters) that made up the extraordinary donation presented in 1994 by Professor (and countess) Karolina Lanckoronska. The origins of the collection can be traced down to King Stanisław Poniatowski, (1732-1798), a legendary collector himself – for more information see CODART's announcement and Warsaw's Royal Castle note.
6. The interesting return of a not so important work.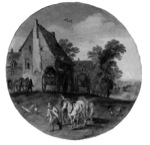 For sure Jan Brueghel the Younger's (1601-1678) tiny "Leaving the tavern" (oil on panel, 18,5 cm diameter) will not enter the annals of art history. But it found its way into this modest blog because of the story attached to its recent restitution to the Gemäldegalerie Alte Meister in Dresden.  All started in the aftermath of Second World War, when it went astray from the Galerie collections. The staff in the museum detected the gap in the inventories some years after, and included the panel it in the 1963 official catalogue for lost works from Dresden Museums. Later on, it was also filed in the "Lost Art" German museums database. But it seems that it was not that far away. In fact, it was part of the stock inherited by Konrad O. Bernheimer, a leading Old Masters dealer from Munich. At some point he sold the Bruegel to a private client, knowing nothing about its tarnished provenance. In 2007, the little work appeared in the catalogue for a sale in Hampel, a Munich auction house. The museum diligently filed a claim for ownership. Bernheimer's reaction was clever: he bought back the painting from his client. And after all the checking procedures had been completed and with the museum's provenance ascertained, Bernheimer has made another intelligent decision: to give the painting back to the museum, with no compensation.
7. The man behind the Zurbaráns.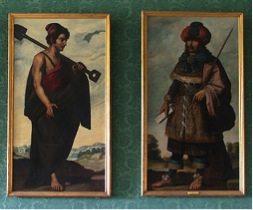 In 1756 Bishop Trevor purchased one of the Patriarchs series (Jacob and his twelve sons) that Francisco de Zurbarán (1598 -1664) has sent a century before (between 1640 and 1645) from his studio in Seville, Spain, to the new, paintings-hungry Latin American colonies. The Bishop hung the paintings in a new room in Auckland Castle, the official residence for the Durham See. They dwelled there for more than 250 years, rather undisturbed, till early this year, when the Church of England Commissioners (in charge of the financial administration) announced plans to sell them. Facing a serious threat to see them leaving the country, the Art Fund launched an appeal. It was attended by an unexpected benefactor: fund manager Jonathan Ruffer, who paid GBP 15,000,000 to the Church administrators and immediately placed the paintings under a newly incorporated "Zurbaran Trust", committed to maintain the works in their original place. Ruffer's generosity has been now awarded with the Prince of Wales Medal for Arts Philanthropy (see Art Fund note).