1. So, you were in Frankfurt!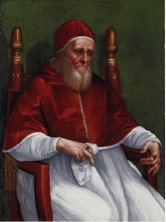 One by one, and avoiding international ballyhoo, the major museums in Germany are completing their ambitious projects of comprehensive renovation. If you found the work done in Berlin and Dresden stimulating, I will now suggest you turn your attention westwards, to the Städel in Frankfurt, which has put an end to its rebuilding years with a new wing for 20th and 21st century art – a development that seems to be today's norm in these once fiercely historical institutions. The big news came however last December, from the Old Masters Department. Coinciding with its reopening, the curators unveiled their latest acquisition, a portrait of Pope Julius II finally attributed to Raphael himself (with workshop assistance; oil on poplar, 106 x  78.4 cm, c. 1511-1512), Thanks to the pentimenti revealed by infrared reflectography, the work is hailed as one the earliest examples of the subject. It was purchased from a private collector, named Ellerman, who had bought it in 2007 in Dorotheum, the Austrian auction house as a mere copy (for only 9,000 Euros). But even without this spectacular addition, the films shot for the occasion show off the wonderful collection hanging on its walls, with some key works that will appear familiar to you.
2. Zoffanny, Goya, Mengs.

I have to admit that I came across Johan Zoffany (1733-1810) only quite recently, as a result of the notable price achieved by a pair of his paintings in Sotheby's Old Master evening sale of last December 7th, 2011 (lot 38 "The Garden at Hampton House", and "The Shakespeare Temple at Hampton House", each  99.7 x 125 cm, sold for 6,761,250 GBP). More embarrassingly, I failed to  find him of real interest beyond what seemed to be rather conventional brilliance. The forthcoming exhibition at the Royal Academy of Arts in London (" Johan Zoffany: Society observed", from 10 March to 10 June 2012, admission for 9 GBP), first seen at the Yale Center for British Art in New Haven, Connecticut, wants to challenge precisely this limited view, and present Zoffany as a sophisticated and canny observer of the Georgian society en route to the greatest Empire on earth. Behind his brilliant, elegantly composed works, one can even read a subtle message about "the studied shallowness of the elite", according to Jonathan Jones piece in his always interesting blog  on the Guardian website ("Johann Zoffany puts 18th–century society under the microscope", February 21, 2012). On the other hand, this reading of Zoffany's oeuvre has a striking parallel to the traditional approach to his near contemporary Francisco de Goya (1746-1828). He also has been hailed as a sharp social commentator, but of a rather different landscape: the declining Spanish Court and society on his way to French invasion and subsequent British rescue operation. Both artists have more than one coincidence in their biographies (something about them in Yale's presentation and Enciclopedia del Museo del Prado's online biography). One may wonder about an exhibition pairing Zoffany's and Goya's works – "George III, Queen Charlotte and their six elder children" (1770, oil on canvas, 104.9 cm x 127.4 cm, The Royal Collection) with Goya's "The Family of Carlos IV" (ca. 1800, oil on canvas, 280 x 336 cm), for instance. To this exhibition, however,  Anton Raphael Mengs (1728-1779) would also have to be invited. Forerunner of Goya's as the leading artist in the Spanish Court, he too was a German artist that put his dazzling brushes at the service of a foreign crown.
3. Here at home.

Barcelona is by no means a must for the international art gallery crowd, but this does not stop some decent dealers  doing an interesting job here. Let me  single out two of them – which yes, I happen to know personally.  First Marc Domènech Tomàs, from Galeria Oriol (c. Provença 264, Barcelona). Placed in a quite central location, his dwellings offer a Kahnweiler-like approach, in terms not only of unpretentious, rather secretive atmosphere, but also of serious commitment to his particular field of choice: 20th century Spanish art. You can have a taste of his excellent holdings either at the "Exhibitions" section of his website (www.galeriaoriol.com), or at his stand in the next The Armory Show in New York (March 8 – 11,  www.thearmoryshow.com).  Top collectors are also paying him attention: he recently sold a work by the insiders-loved Esteban Francés ("Arrangez vous", 1939, oil on canvas, 50 x 65 cm) to the Museo Nacional Centro de Arte Reina Sofia, leaving its director, Manuel Borja-Villel, very happy about this "real surprise".
4. Celebrating a dead Constitution.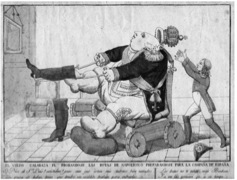 The second dealer I want to point out is Albert Martí Palau. With a background in history of art and education, he complements his day-to-day, family-owned, general antiques trade with a series of small, carefully crafted exhibitions on engravings and drawings, his real passion. He has a gift for finding new subjects, and his last project is a perfect example of his practice. For what dealer would dare to devote his public rooms to such a dry matter as "1812. Constitution, conflicts, propaganda" ? And yet, the display in Palau Antiguitats (from 6 February to 11 March, c. Gràcia 1, Barcelona, t. 93 2376158) shows it as a thought-provoking field, sparkled by some rarities, like a contemporary diary recording the Napoleonic occupation, written by a Barcelona's local nobleman, or a previously unrecorded cartoon, in which a plump Louis XVIII unsuccessfully tries to fit his rotund legs into Napoleon's slim boots, while an officer standing behind him (probably the Duke of Angulema), raises his arms to catch the falling crown – a satire on Louis attempts to make himself ready for a new invasion of Spain.
5. Legal expectations.
To finish with the local news, a note on legal matters. Private sponsorship for cultural ventures is still a small business in Spain, and the law passed in 2002 trying to foster it has had limited success. Last Monday, Convergència i Unió, the Catalan Nationalist party (member of the minority), offered a presentation of its reform proposal. It has some points of interest.  The core of it is, as expected, taxes. Focused on income tax (for individuals) and company's tax (for corporations), the proposed scheme works as follows: for the first 150 euros, a 100% deduction for individuals (a bold proposition, since it will cover many of the annual fees paid for by membership to a variety of organizations, like museums, cultural associations, sports clubs, theatre companies), for the rest of the given sum, a 65% deduction (a big leap from the previous 25%) for personal income tax, and a 55% (from the previous 35%) for company's tax. Beyond these taxes incentives, the proposal also takes the first steps to introduce the endowment as a new tool in Spanish regulation. In the current situation, the whole of the given sum must be spent or at least expected to be spent, while under the proposed endowment framework only the (financial) gains from the given sum can be spent – thus complying with the classical role of the endowment as a stable and controlling agent for the finances of the organization. During the following open floor time, Joan Abellà, manager of the MACBA (Museu d'Art Contemporani de Barcelona) made the interesting suggestion of rounding off everything with a serious development on corporate governance rules, targeted specially at the directors' level and aimed to offer the benefactors a more open, transparent, accountable structure in exchange for their money. All that sounds quite Anglo-Saxon, doesn't it?  However, all the speakers insisted they were following the example of France, whose 2003 law prompted a 3 times jump in gifts and a 6 times jump in the number of benefactors.
6. Found in the virtual bookshelf: Pouvoirs du portrait sous les Habsbourg d'Espagne, by Diane H. Bodart.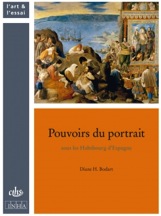 Recently published by the Parisian INHA (Institut National d'Histoire de l'Art, 560 pages, 46 euros at the publisher's web), Bodart's work looks very promising after looking through its Index and reading its Introduction, both accessible online. Embarking  on in-depth research on the construction and use of royal portraiture, she has chosen her starting point carefully: the portraits of Charles V by Titian. In them many interesting features come together: a celebrated artist, successful at establishing the prototype of the subsequent royal portraiture and the most powerful of the monarchs of the moment, who also happened to be one of the ugliest, since it sported a prominent chin that helps the author when handling with resemblance, a difficult matter when dealing with portraits of people from the pre-photographic era. From this base, the book promises a long journey studying the Habsbourg's portraits in relation to artistic achievement and artist success (not only of Titian, but also of Velázquez, and others), and their role in enacting political powers and social practices as a surrogate of the king's presence – alongside other topics related to the subject.
7. Stocktaking in grand style.
Following an 1996 official report complaining about the ill-management of the loans of works of art made by the French museums and other public collections to other public bodies (the rest of the departments, embassies, official organizations and so on), a Commission de récolement des dépôts des œuvres d'art appartenant à l'État was established, with the gargantuan task of recounting every single item currently on loan. Last June it finished its 13th report, which was made public in October, but only reall  broadcast as a report last December in Artclair.com. The article noted the 919 works declared as "stolen" by the report, the 3,772 "presumably destroyed" and the 52,214 "not seen". These are impressive numbers, that can be explained only in part by the fact that for some institutions it was its first serious loans' checking since its foundation, which in some cases dates back to  the Revolution. But equally interesting is the big picture of the endeavour, and its latest developments. First of all, how many works do you think they estimate they will have to count?  Remember these are only loans, not works in the museums' permanent collections: a staggering 435,186. Even more noteworthy is that from 1997 to 2009, the commission has revised a modest 173,849 (14,487 per year), while between 2009-2010 the number of recounted works climbed to 216,001 (42,152 in one year). Why this acceleration? The answer probably lies in the report published in 2009 about the (rather poor) job done in the previous years. But even with this new pace, they foresee 5 additional years before completion.
Miss anything? Send me your good ideas either as a comment below or by email to jordi@jordidenadal.com.