1. New Old Brueghel.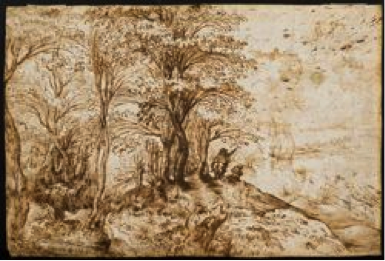 The research-fuelled, smoothly running wellspring of new works by great old masters keeps flowing as usual. This month has delivered a new drawing to us by Pieter Brueghel The Elder (1525/30 – 1569). As this piece in Artdaily explains, last November, Manfred Sellink, director of the  Museums of Bruges and a specialist in Brueghel, received a photograph of the work: he soon passed it to his colleague Martin Royalton-Kisch (retired curator for Dutch and Flemish Drawings in the British Museum), and both concluded it was the real thing. The attribution to Brueghel has been made on stylistic grounds, but if the Dutch sentence "Onder het ultraviolet licht werden ook sporen van een signatuur in de linkeronderhoek leesbaar" means what I am guessing, the Museum's official note also states that "traces of a signature could be read under ultraviolet light in the lower left-hand corner". It further explains that thanks to the Italian paper used, the fine drawing can be dated between 1552-54, during Brueghel's years in the peninsula. Most of the rare drawings by Brueghel are in public collections (among them, 5 in the Louvre, 2 in the NGA Washington, 4 in the British Museum), but this will be one of the few in private hands. It will be included in the coming exhibition Pieter Brueghel unseen! at the Museum Mayer van den Bergh, Antwerp (Pieter Bruegel ongezien!, from 16 June to 14 October 2012, admissions up to €8, no catalogue announced), curated by Sellink himself. On the other hand, this is not the only work by Brueghel The Elder to come up recently: last November, the Museo del Prado presented its new acquisition, the large The Wine of Saint Martin's Day  (tempera on line 140 x 270.5 cm, c. 1565 – 1568, signed), found in a private Spanish collection (see its report here).
2. No more expensive, dusty scholarship.

Thanks to B. Grosvenor's Art History News blog, I learn that on 31 May the Getty Research Institute will launch its Getty Research Portal  – and this link will then be active. It is an online gateway that will give access to already 20,000 digitized art history texts, published before 1923 and offered by a number of international institutions. But its potential is huge, as this optimistic statement from Getty's press release puts it: "Because the Getty Research Portal only aggregates the metadata of the digitized texts and links to them, instead of keeping the texts on a server, there are no technical limitations to how much material can be collected". I hope one day it will also link to the Biblioteca Digital d'Història d'Art Hispànic (Digital Library for Hispanic Art History), launched and maintained by the Art Department of the Universitat Autònoma de Barcelona, in collaboration with other local research centres. It is a digital depository, focused on Spanish art, with 500 documents dating from 1633 to 1959.
3. Researching, and then publishing against the grain.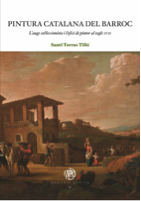 Memoria Artium, the joint venture in art history publishing set up by six Catalan public universities (UB, UAB and UPC in Barcelona, URV in Tarragona, UdL in Lleida and UdG in Girona) plus the MNAC (Museu Nacional d'Art de Catalunya), is quietly building a catalogue on little know subjects, mostly of local interest. This is the case with the recent "Pintura Catalana del Barroc. L'auge del col·leccionista i l'ofici del pintor al segle XVII", by Santi Torras ("Catalan Baroque Painting. The rise of the collector and the painter's trade in the 17th century"; 520 pages; Barcelona, 2012, ISBN: 978-84-490-2681-2; €50, available at bookshops), which deals with an art normally disregarded as mere provincial. Some authors, however, take a broader perspective: Cristina Fontcuberta Famades "Imatges d'Atac. Art i conflicte als segles XVI i XVII" ("Images of Attack. Art and conflict in the 16th and 17th centuries", 542 pages; Barcelona, 2011, ISBN: 978-84-490-2671-3; €50, also at your bookshop) is presented as the first overview on combative, social critical art in Europe William Hogarth's time (1697-1764).
4. Bob Haboldt.
Bob Haboldt, one of the important dealers in Northern Old Masters is celebrating his 30 years in the trade with a book and a shared exhibition in his galleries in Paris, New York and Amsterdam, as explained in this note at the Connaissance des Arts blogs. The book, title Singular Vision,  features 500 of the numerous Old Masters paintings and drawings he has dealt with, and include essays by noted scholars (hard to find anywhere, I guess you can order the book directly from Haboldt staff at oldmasters@haboldt.com). To know more about it, have a look at this interview he gave last March. It was part of the series of talks with dealers that Paris Tableau fair's organization posted on their website.
5. Black wizards never make deeds.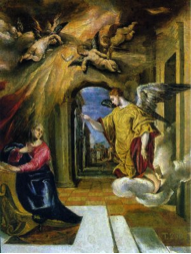 A ruling by the Spanish Supreme court last March reaffirmed the right of Barcelona's City Council to receive the gift from Julio Muñoz Ramonet's (1912-1991) will, which includes this vibrant painting by el Domenicos Theotocopoulos El Greco (1541-1614) along with the rest of his art collection. But this was not exactly a gift. As this article in El País explains (José Ángel Montañés, "Ingeniería Financiera en 1950", El País, 14 May 2012), the collection is comprised of some 80 works. They were kept in a deposit in the Museo de Arte de Barcelona (the predecessor of the MNAC) since before the Spanish Civil War broke out (1936-1939), as  collateral for a public loan given to a failing textile company. In 1944 Muñoz, one of the most notorious "new personages" of the Franco regime, purchased the company. He immediately received a notice of debt for the loan plus interest of 6.3 million pesetas (the traditional Spanish currency we are hear spoken about too much these days). But in a characteristic coup d'effet, he managed to downsize it to 3.2 million pesetas, based on such creative grounds as there being damage to the collection by mismanagement and the loss of certain items. Four years later, in 1950, he made the company sell him the collection for 4 million pesetas, and immediately wrote to the Museum's director, threatening that he had to pay the loan debt and retire the works from the museum. They reached an agreement rapidly: Muñoz was paid by the city Council 4 million pesetas, not for the whole collection, but for just 29 of the paintings (plus 2 "gifts"), allowing him to take home nearly 50 remaining works (including the Greco). He then used the money to repay the loan. In other words, he acquired 50 works for free. And, as the journalist puts it, the City Council "had already paid for the paintings" it is now claiming. Muñoz family heirs are still resisting, and made an appeal to the Constitutional Court – it could therefore take some years before we see the paintings hanging in the MNAC's rooms again.
6. Who watches the watchmen?
This month art pilfering dispatches started with a half smile on the face of Venetian Count Cristiano Barozzi's and his imaginative nicking scheme, consisting of replacing his friends low-key master paintings with high quality digital copies (see a recap of the story by Sol. G. Moreno in Ars Magazine). But the recent news about the plundering of the Library of the Girolamini in Naples is less humorous. 240 old books have recently been recovered in Verona, further harnessing the link between the total 1,500 volumes that disappeared over the years and the former director of the library, Massimo de Caro. He is now under arrest, but before tacking up the post, he was working in (and possibly owned) an antiques books shop in the city of Veneto. An international quest for the rest of the missing books has been launched – see this article for full details: Tina Lepri, "Biblioteca dei Girolamini: sequestrate a Verona 240 volumi sotratti a Napoli", Il Giornale de l'Arte, 20 May 2012, online. The Library, which officially enjoys the highest degree of public heritage protection, is housed in a large convent that also displays a magnificent art collection.
7. Sure you will fancy that one?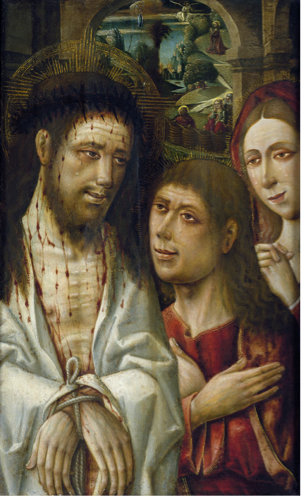 I came across this interesting panel in the catalogue for the auction on 1 June at Bassenge Berlin. It sports a not very saleable subject, and its measurements of 52 x 42 cm cannot conceal it was cut out from a larger piece. But its attractive qualities ("attractive" being the word used when "exceptional" does not apply to a nice work of art) have prompted the name-guessing game among some specialists in Valencian painting between 15th and 16th centuries. Do you fancy joining in?