1. After beach time.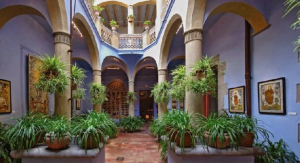 The Fundació Mascort in Torroella de Montgrí (in North Catalonia, close to the coast) is showing the Selected Pieces of its founder's collection, until October 15th. They are displaying them as they were the normal furnishings of their lovely house, the Casa Galibern, and the effect is refreshing. You will find, among other interesting items, a splendid cross from 15th century Barcelona, attributed to Pere Barnès. For good ice cream, try the local Gelats Angelo (at Bohème or El Cruixent shops).
2. A Catalan in Texas.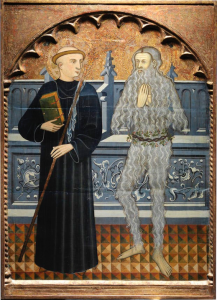 Appollo Magazine  informs us the Meadows Museum bought this panel with Saints Benedict and Onophrius attributed to Pere Vall. Dated c. 1410, it is only the third work before 1450 in the collection. The happy seller was Sam Fogg.
3. Now it is public.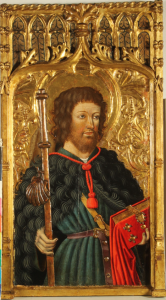 José Ángel Montañes reviews in El País the Generalitat of Catalonia's 2016 acquisitions list ("Más patrimonio para todos", May 1st, 2017). It includes this Saint James Apostle by Ramon Solà II, a painter from Girona. It was found by yours truly, and it will join the Museu d'Art de Girona's fine Medieval collection.
4. Great job in a great work.
Bartolomé Bermejo's masterpiece The Pietat Desplà  looks spectacular after its restoration (paid by Fundació Banc Sabadell). It has now returned to the small museum in the Barcelona's Cathedral cloister. Otherwise, between in October 2018 and February 2019 the Prado in Madrid will host a comprehensive retrospective of Bermejo's works, curated by Joan Molina from the Universitat de Girona.
5. They found gold.
The Centre de Restauració de Béns Mobles de la Generalitat has published this tape of its excellent cleaning of the Romanesque Portal in Santa Maria of Ripoll – in collaboration with Arcovaleno. Perhaps you can spot a golden beard. Here you can download an executive summary (in Catalan). In Arcovaleno's website there is some extra material.
6. Leonardo shines again.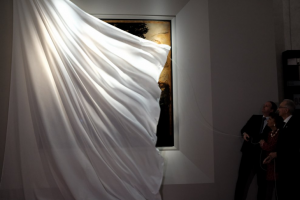 After a year of research and discussion, followed by five and a half years of actual cleaning and restauration work, Leonardo's Adoration of the Magi is hanging again in the Uffizi ("Firenze, l'Adorazione dei Magi restaurata debutta ai Uffizzi", La Reppublica, 27.03.2017). Specialist Frank Zöllner hails it as a brilliant answer to the restorer's permanent dilemma: to erase or not to erase the work's physical past. ("Ist Mückenschiss keine wahrhafte Geschichtsspur?", F.A.Z., 26.04.2017).
7. Medieval ivories, now less rare.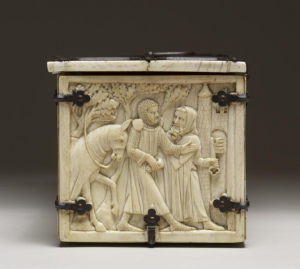 When looking for 14th and 15th century ivory caskets, I came across the impressive Gothic Ivories Project mantained by the Courtauld Institute, which includes the medieval ivory collections of more han 400 than institutions and archives, for a total of over 5100 objects.