Saint Blaise
Joan de Joanes (Valencia?, h. 1510-Bocairent, Valencia, 1579).
c. 1568 – 1570
Oil on wood, 101 x 58 cm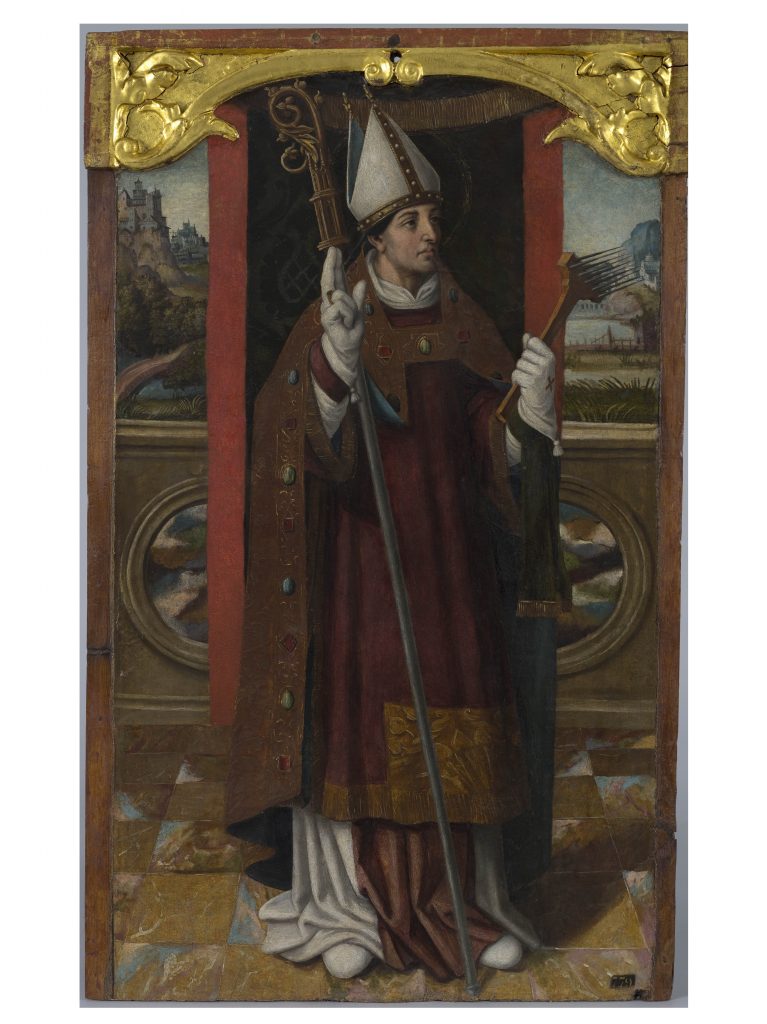 This calm, elegant image of Saint Blaise is a previously unpublished work by Joan de Joanes, a Valencian artist among the finest in Renaissance Spain. It can be easily related to two other works by him (The Embrace at the Golden Door and Saints Adbo and Senen) currently in a private collection in Valencia, in which the late Fernando Benito found and identified them, for his ground-breaking exhibition on the artist in 2000 (F. Bento, Joan de Joanes. Una nueva visión del artista y su obra, Valencia, 2000; cat. num. 7 and 8, pp. 54-55). They have the same measurements, style and composition, and its therefore natural to conclude they were all side panels from the same retable, lost today. As Benito explains, Joanes made these works under the supervision or even the collaboration of his father, the painter Joan Vicent Macip. The general layout can be traced back to Macip, with the protagonist in a central position underlined by the satin robe hanging from his shoulders, and the low wall enclosing the space as a terrace opened onto a green, pleasant landscape overlooking a city and a river. But Joanes paints in his own style. The saint, whose figure could have been coarse and stiff, is shown as elegant and dignified, thanks to Joanes drawing skills. With a serene gesture from his right hand, he gives us his blessings, whereas his left hand effortlessly holds the staff with which he was tormented. His eyes look peacefully to the world beyond. The surfaces of his mitre, gloves, cape, shoes, ring and crosier (he was said to be Bishop of Sebaste, in the Capadocia) are rendered with short, precise brushstrokes, displaying a carefully balanced choice of colours very different from the stark contrasts favoured by Macip's generation. Both on the ground and in the landscape we find further evidence of how Joanes surpassed his father by being more refined and intelligent when using his painting skills. The work's physical condition is excellent, and its recent restoration was nothing more than a general cleaning of its old varnish, plus some minor refills.
The Crucifixion
Joan Reixach (active in Valencia between 1431 – 1486)
Oil on panel, gold ground, 117 x 122 cm
Acquired by a private collector.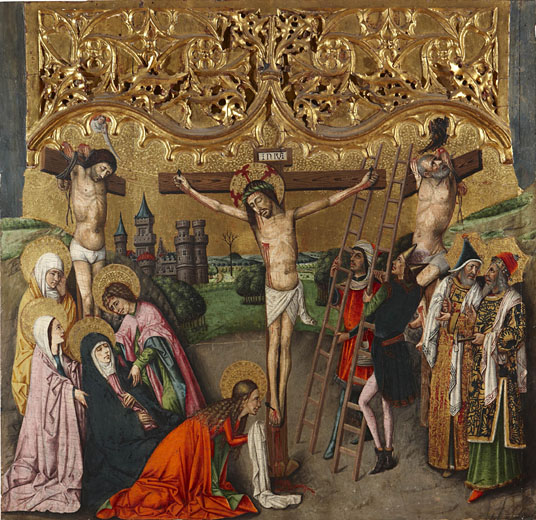 In the mid 15th century, Valencia was becoming the place where the finest paintings of the Catalan-Aragonese Crown were made. Among the creations of the masters of this late Gothic period, Joan Reixach's works shone, by combining the elegance of an inherited International Gothic style with the new realistic trend that was arriving from the Netherlands. This panel, which remained unrecorded until recently, is a fine example of Reixach's best years, and can be compared closely on stylistic grounds to the artist's predella with five scenes from the Passion of Christ, today in the Museu de Belles Arts, Valencia.
Saint John the Baptist
Attributed to Fray Alonso de Zamora ("Master of Oña") Oil and tempera on wood, with gold ground.
68 x 47 cm.
End of 15th c. – beginning of 16th c.
Acquired by a private collector.
Saint Peter in Tears
Juan Bautista Maíno (Pastrana, 1578 – Madrid 1649)
Oil on canvas, c. 1610-1611, 125 x 103,5 cm
Acquired by a private collector.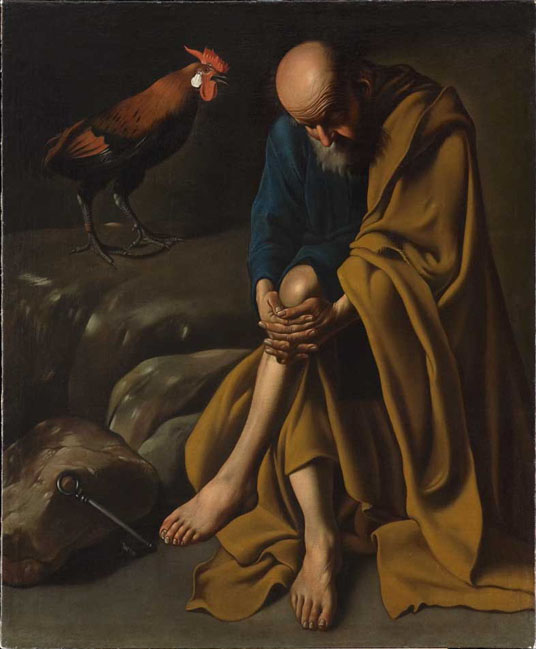 Juan Bautista Maíno is one of the leading figures of Spanish Baroque painting. Although he used to be known mainly to specialists in the field, he is now increasingly familiar to the wider public, thanks above all to the monographic exhibition hold by the Museo del Prado between 2009 and 2010. This painting shows the basic tenets of his style. He takes Caravaggism as the starting point, making good use of chiaroscuro effects and adopting a realistic, down-to-earth and intimate approach to the saintly protagonist. But, departing from Caravaggio's lessons, he adds a certain sense of solemnity and sobriety, which would become the hallmarks of the Spanish interpretation of the Baroque (an approach that was also echoed in Italy by artists like Orazio Gentilleschi). The composition used in this painting was so successful, that it was later adopted by other masters like Velázquez or Luis Tristán. The Musée du Louvre has recently bought another version of this painting by Maíno himself.
Still life with apples, pears, cheese, boxes and a small barrel
Luis Meléndez (Nápoles, 1716, Madrid, 1780)
c. 1760- 1765, Oil on canvas, 50 x 35 cm
Acquired by a private collector.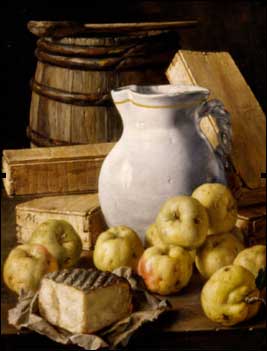 Although he died in almost total poverty, Luis Meléndez is now considered one of the major still-life painters, a genre with deep roots in the Spanish painting tradition of the16th, 17th and 18th centuries – with names like Juan van der Hamen, Juan Sánchez Cotán, Francisco de Zurbarán and Meléndez himself. Meléndez' works are included in the collections of the great European and American museums, but it is the Prado that holds the largest selection of them. The core of the Prado's holdings is the series of still-lives featuring Spanish fruits and eatables that Meléndez executed for the Prince of Asturias (who would reign as Carlos IV). In these the artist showed his masterly hand in rendering the effects of a wide range of surfaces, as well as his rare ability in building elegant and sound compositions out of the most common objects. In terms of artistic achievement, the painting shown here can be ranked among the examples from that Royal commission.
Joseph's Coat Brought to Jacob (Gen 37, 33-34)
Pelegrí Clavé (Barcelona 1811-1880)
Oil on canvas, 99 x 136 cm
Signed: "P. Clavé F[ecit]. Roma / 1842".
Acquired by the Museu d'Art de Girona.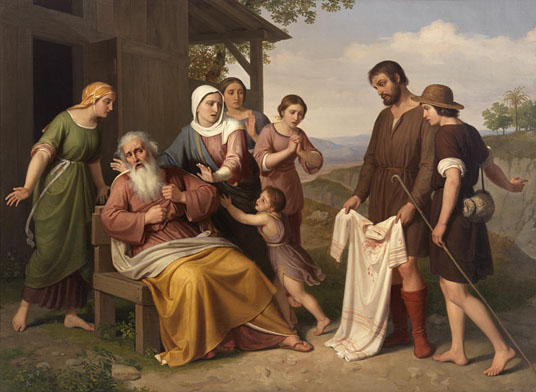 "Rescued" from a regional European auction, this unrecorded painting has become a milestone of the Catalan Nazarene movement. Catalan Nazarenes were the first to reconnect with contemporary trends in European art, lost since the days of the last Catalan Medieval masters, many centuries before. Pelegrí Clavé is a key name in the Nazarene circles, and the exquisite craftsmanship of this painting shows why. But this work is also important precisely because it shows how Clavé was trying to come to terms with the best of the Nazarenes, which he met while he was in Rome. The group was founded there thirty years before, by a self-styled brotherhood of German artists. Their first public project, which gave them fame and recognition, was the frescoing of Casa Barthóldy, the Prussian ambassador's home in the city (the frescoes are now in the Alte Nationalgalerie, Berlin). The subject featured there was quite specific: the life of Joseph. By retaking the same biblical matter – with a direct quotation from one of the paintings of the original project, Clavé paid tribute to the pioneers of the movement and, at the same time, claimed for himself the role of their true successor. More details on the work and its background can be found in my essay, published by the Museu d'Art de Girona ("Pelegrí Clavé, 1811-1880: Jacob rep la túnica ensagonada del seu fill Josep. La darrera adquisició del Museu d'Art de Girona", Museu d'Art de Girona, 2010).
The Darcaguy priest or Portrait of a Gwana
Josep Tapiró Baró (Reus 1836 – Tangier 1913)
Watercolour, 64 x 45,5 cm, c.1907
Signed: "J. Tapiró".
Acquired by the Museu Nacional d'Art de Catalunya.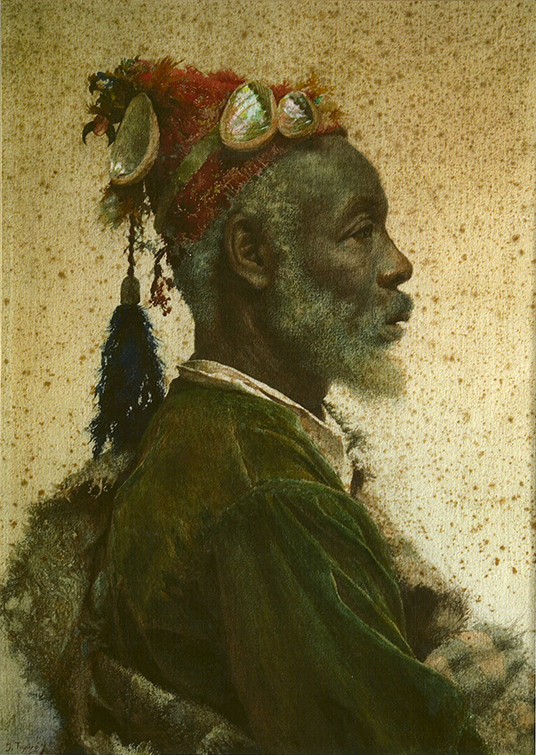 The Blue Courtyard III, (1914)
Santiago Rusiñol (Barcelona, 1861 – Aranjuez, 1931).
Oil on canvas, 94 x 116 cm.
Signed: "S. Rusiñol"
Included in the catalogue raisonné by Josep C. Laplana, n. 21.2.3, p. 209
Acquired by a private collector.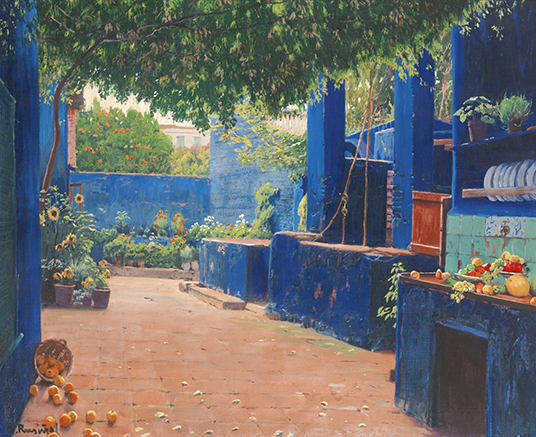 Highlanders in La Serrota, Avila (The Mares), 1947
Benjamín Palencia (Barrax, 1894 – Madrid, 1980)
Oil on canvas, 97 x 97 cm.
Signed and dated: "Benjamin Palencia 1947".
Acquired by a private collector.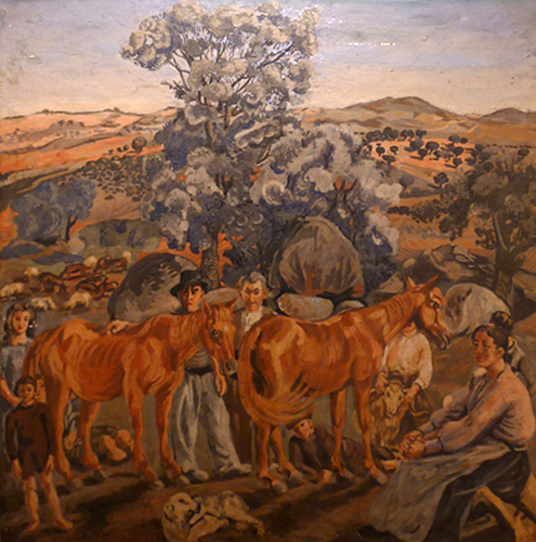 Saint Andrew
Marià Fortuny (Reus 1838 – Roma 1874)
c. 1868 – 1870
Oil on canvas, 80.5 x 65.5 cm
Acquired by the Museo Nacional del Prado.