1. La Getty compra i com.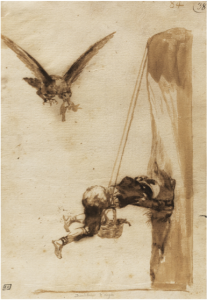 La fundació Getty ha anunciat la major compra de dibuixos de la seva història, un grup de 16 obres de Miquel Àngel, Andrea del Sarto, Parmigianino, Beccafumi, Rubens, Barocci, G.D. Tiepolo, Degas, entre altres. Inclou El caçador d'àligues venut a Sotheby's el 2010 per 881.250 lliures. Tots provenen de la mateixa col·lecció britànica, de la qual la Getty encara pot obtenir-ne més peces. Articles al The New York Times, Los Angeles Times; nota de premsa, amb la llista completa d'obres, a la web de la Getty i al The Art Newspaper, imatges i una suggerència de qui pot ser el col·leccionista.
2. Colección Delgado
Las Provincias primer i l'Ars Magazine més tard, ens informen de la cessió per 5 anys de 32 obres , de la Col·lecció Delgado, moltes d'elles inèdites, al Museu de Belles Arts de València. Entre els autors inclosos, hi ha Velázquez, Cajés, Meléndez, Murillo, però també Ramsay. Ara s'en fa una exposició fins al 29 d'octubre i el catàleg està firmat per José Gómez Frechina, que ha estat instrumental per a l'acord, i David Gimillo Sanz, conservador al Museu.
3. Restauració, pas a pas.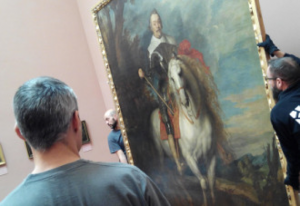 A la web del mateix Museu de Belles Arts de València hi trobareu, per capítols de 5-10 minuts, el procés de restauració en curs del seu Retrat eqüestre de Francesc de Montcada, de Van Dyck.
4. Cara a cara a la National Portrait Gallery.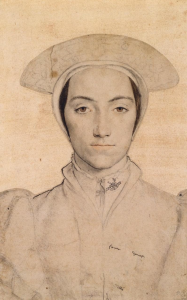 Fins al 22 d'octubre, la National Portrait Gallery de Londres mostra The Ecounter, una atractiva exposició de dibuixos de  retrats del Renaixament i del Barroc, provinents de col·leccions britàniques, amb obres de Holbein, Rembrandt, Leonardo i altres. Les critiques han estat entusiastes, com aquesta de Alistair Sooke al The Telegraph.
5. I el 2020, Morosov.
Si, a pesar d'algunes falls en la instalació, vau disfrutar de la col·lecció Txukin a la Fondation Luis Vuitton de París, esteu d'enhorabona: han anunciat que a la tardor del 2020 portaran la col·lecció dels seus contemporanis els germans Morosov. Per conèixer les relacions socials I professionals entre ells, val la pena la biografia de Natalia Semenova i André Delocque: Chtchoukine. Le patron de l'art modern, ed. La Collection Chtchoukine, Paris, 2016; 400 pàgs. The Art Newspaper ens recorda a Pierre Konowaloff, un hereu dels Morosov molt actiu.
6. La caixeta de ciment.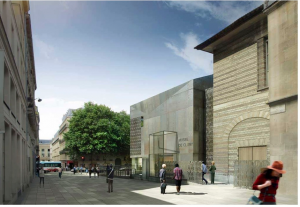 Aquest és l'aspecte que tindrà l'entrada del Musée de Cluny a París una vega hagin acabat els treballs de construcció – a finals d'aquest any, si tot va com està previst. Podeu veure el projecte complert de renovació, anomenat Cluny 4 i que afecta també a l'interior i als recorreguts, a la secció que s'hi dedica a la web del museu.
7. Fins d'aquí 125 anys?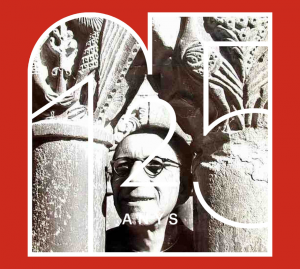 El blog Mev125 tanca.  El van obrir, fa un any, a l'excel·lent web del Museu Episcopal de Vic, per tal de celebrar el seu 125è aniversari. Des d'aquí el saludem i li donem les gràcies, perquè les seves 40 entrades han estat un exemple de com difondre coneixement i bona informació d'una manera ben planificada, clara i amena. Tots hem après sobre la història del museu, les obres que conserva i la gent que l'ha fet possible – entre ells, el Dr. Eudald Junyent (1901-1978), després de renunciar a una prometedora carrera a Roma. Els continguts quedaran disponibles en obert.