1. Pedro de la Romana, pas a pas.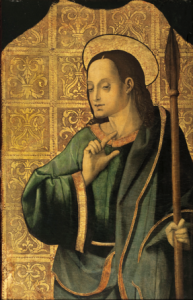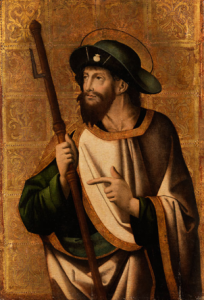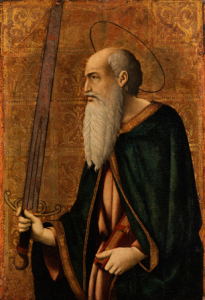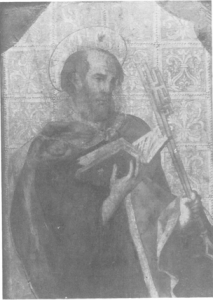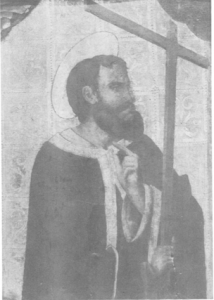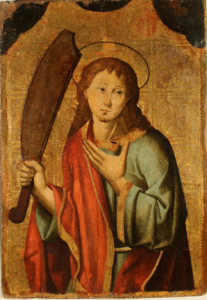 L'última obra de l'exposició de la donació Gallardo al MNAC, entre el març i el juliol de 2016, era el Sant Tomàs Apòstol de l'andalús Pedro de la Romana (doc. 1488 – 1529). L'atribució ja havia estat proposada per C. R. Post al 1950 i va ser recollida per José L. Galdón, al 1991, en l'article en què va publicar dues peces més del mateix conjunt,  un Sant Pere i un Sant Felip localitzats al Museu del Patriarca de València. Ara hi podem afegir en primícia aquests Sant Jaume Apòstol i Sant Pau que hem localitzat al mercat internacional: no sembla difícil veure que provenen del mateix apostolat. Igualment, en formaria part el Sant Joan que, després de passar per aquest vostre servidor, ara es conserva en una col·lecció privada. Aquí dalt teniu les fotografies de tots ells.
2. Noves respostes per a velles preguntes.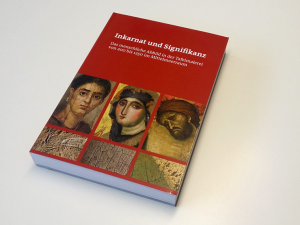 Una de les qüestions clàssiques  i específiques de l'art cristià és com representar Crist, l'encarnat amb doble natura. Se n'ocupa, amb una especial èmfasi en els aspectes materials i l'evolució de la pintura sobre taula, el llibre Inkarnat und Signifikanz – Das menschliche Abbild in der Tafelmalerei von 200 bis 1250 im Mittelmeerraum (668 pàgs., 920 il·lustracions, 29,90 €, ISBN: 978-3-9815094-1-0), que el Zentralinstitut für Kunstgeschichte de Munich publica després de tres anys d'investigació. El projecte té una atractiva presentació digital a la web de Google Art Project. Mentrestant, via l'excel·lent  blog Art History News, ens assabentem que la National Gallery de Londres dedica al mateix tema una sèrie de vídeos al seu canal de Youtube, titulada The Audicity of Christian Art.
3. Un 2018 barroc.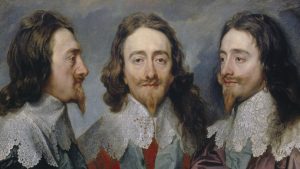 Mentre que aquest últim trimestre del 2017  amb la doble donació Van Otterloo – Weatherbie al Museum of Fine Arts de Boston de diverses obres de fins a 66 artistes del barroc nòrdic (inclosos Rubens, Van Dyck  i Rembrandt, segons els comunicat de premsa del museu) i de fons per a un centre de recerca, també el 2018 pinta bé per als amants d'aquest moviment. El 24 de gener, la Royal Academy de Londres inaugurarà Charles I: King and Collector, dedicada a l'extraordinària col·lecció d'obres mestres del malaguanyat monarca, la subhasta de la qual alimentà d'altres col·leccions reials, en especial la de Felip IV. El 10 d'abril, el Museo del Prado obrirà Rubens, pintor de bocetos, el format en que  es revela el seu geni d'una manera més clara.  A partir de l'estiu, serà una ciutat sencera, Anvers, la que es farà barroca amb el programa Antwerp Baroque 2018, intentant connectar amb l'art contemporani – de moment, ja hi han acollit l'Anunciació de Tintoretto que va pertànyer a la col·lecció de David Bowie. A partir del 15 de desembre, agafarà el relleu el Centraal Museum d'Utrecht (en col·laboració amb l'Alte Pinakothek de Munic), amb una exposició dedicada als caravaggistes del nord: Utrecht, Caravaggio and Europe. D'altra banda, per a finals de 2019, la mateixa Alte Pinakothek ja ha anunciat una gran retrospectiva de Van Dyck.
4. A la Brussel·les belga.
La menció als esbossos de Rubens em fa pensar en la magnífica sel·lecció que se'n pot veure al Museu Reial de Belles Arts de Bèlgica, ara rebatejat amb un Musée Oldmasters Museum tan forçadament híbrid com l'Estat que l'acull. El museu pateix el mateix grau suau de decrepitud que també es nota en les línies de trens del país, però tot queda oblidat després d'un parell d'horetes visitant la seva gran col·lecció de primitius flamencs, Bruegels (la família al complet) i pintura barroca holandesa – amb la sorpresa, que mai no falla, de trobar aquest oli conegudíssim de David en una de les seves últimes sales. A pocs metres hi ha el centre Bozar, que acostuma a oferir exposicions interessants, a més a més de la resta dels Musées Royaux.
5. Més enllà de l'Angelus.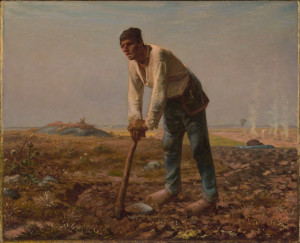 El Musée de Beaux Arts de Lille dedica fins al proper 22 de gener, una retrospectiva a Jean-François Millet (1814-875), autor del cèlebre Àngelus conservat a Orsay. L'exposició, segons la seva web de presentació, vol ajudar a treure-li de sobre l'etiqueta de "pintor pagès" i reivindicar l' "univers sensible i poètic d'un pintor fora de sèrie que va marcar profundament Van Gogh, Pissarro, Seurat, Gaugin, Permeke, Dalí i, més recentment, Bansky".
6. Una combinació perfecta.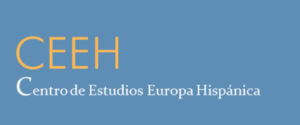 El blog Artes ens porta l'excel·lent noticia de la beca doctoral en art hispànic al Courtauld Institute of Art, patrocinada per Centro de Estudios Europa Hispánica. És la unió de d'una gran institució i d'una gran fundació privada i segur que ajudarà a cobrir un buit històric en l'oferta de la universitat londinenca. El termini és el 10 de gener, però es recomana als interessats de contactar amb els possibles supervisors abans, a fi de discutir el tema de recerca.
7. No ens n'oblidem.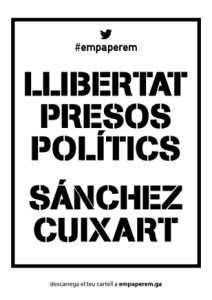 És impossible fer-se càrrec de les inacabables injustícies del món, però sempre es pot ajudar a recordar, un cop i un altre, que hi ha dos homes bons i innocents a la presó. El cartell es pot descarregar aquí.